Bot Street Fight A
A downloadable game for Windows
Overview
This is a VR non-interactive cinematic experience.
Developer
Features
Maps: City Street
Slow motion

VR

Game Menu
| | |
| --- | --- |
| Menu | Esc/Ctrl + M |
| Reset | Space |
| Toggle Post Process AA Quality 2/3 | Num - |
Description
This is a VR non-interactive cinematic experience.

You ride on an invisible rail in this realistic city street scene with police fighting a robot that has run amok.

Directions
Without a VR headset you can only look forward.
The menu does not work in VR but after you press Play it should detect your headset and switch to VR mode.
Notes
I don't have a VR headset so couldn't verify if VR works but it is playable without VR. If anyone tries the game with a VR headset could you let me know if it works and what VR headset you used.
Showdown VR Demo was originally designed for Oculus DK2 and up, Sony PlayStation Morpheus, and HTC Vive SteamVR. I am not sure if other headsets are supported.
BotStreetFightA is a remake of Epic Games Showdown VR Demo; however, BotStreetFightA is a ready to play game that doesn't need to be built from source.
There are 2 versions of this game. BotStreetFightA works with VR and BotStreetFightB works with a keyboard & mouse.
Version 1.0
9-20-2021
Known Bug: None.
Technical
Unreal Engine Version 4.11.2
4.11 and 4.23 used different versions of Showdown VR Demo. I used 4.11 because 4.23 would not load.

Design
Remake of Epic Games Showdown VR Demo.

Assets
Epic Games Showdown VR Demo
| | |
| --- | --- |
| Updated | 5 days ago |
| Status | Released |
| Platforms | Windows |
| Author | bradcodetips |
| Genre | Simulation |
| Made with | Unreal Engine |
| Tags | 3D, Explosions, First-Person, Sci-fi, Singleplayer, Unreal Engine, Virtual Reality (VR), Walking simulator |
| Average session | A few seconds |
| Inputs | Keyboard, Gamepad (any), Oculus Rift, HTC Vive |
Install instructions
Download the ZIP file, unzip, and run the EXE file. No install is required.
Download
Download
BotStreetFightA-1.0-windows64.zip
610 MB
Comments
Log in with itch.io to leave a comment.
Isn't this Epic Mega Game's property?
This is from the UE4 Showdown VR Demo so I did not make the demo. I thought some people might like to try it just as a ready to play download. I wanted version A to be just like the original to work with VR. I planned a version B to look around with a mouse so it did not require a VR headset, if it works out.
Hello,

I have tested the game with the Oculus Rift S. It is only visible in one of the lenses. Stereoscopy is lost and cannot be used. Sorry. Export to Oculus Rift S did not work.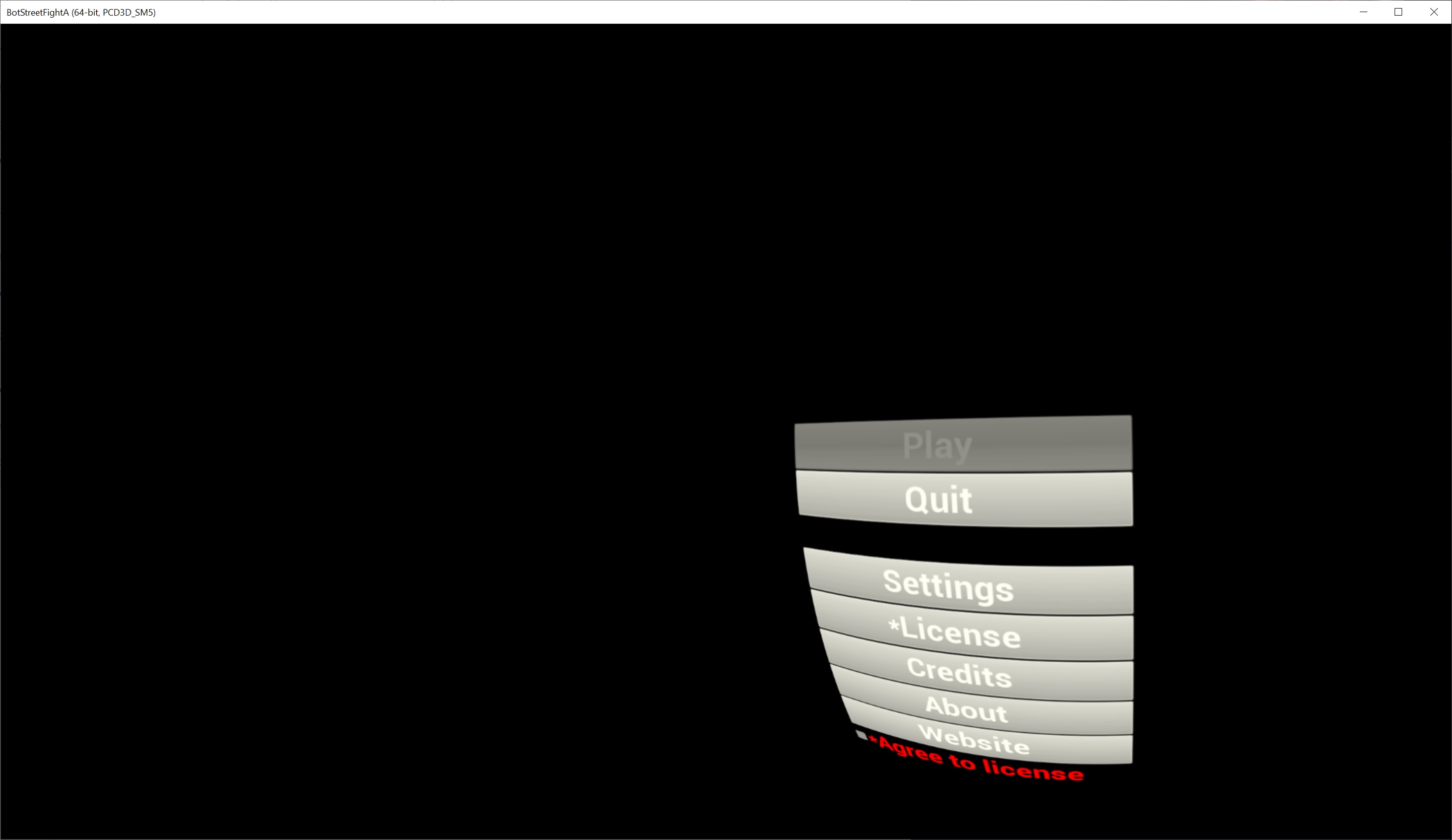 Thanks for testing the game.
I notice the photo you sent is of the menu. The menu will not work in VR. I could not make the menu work in VR because I don't have a VR headset to test it.
The VR headset should work after you press play and enter the city street map. If you get a chance to try again could you try after the city street map starts.
I have tried again. The problem is that the play button cannot be activated from the glasses and when trying to do it from the screen the application closes and blocks my Oculus glasses and I have to restart them. In my case and experience it is completely unusable. Sorry.
Thanks for trying. I thought you would be able to start play using the menu from the keyboard & mouse even if the VR headset was connected but I guess it does not work.